Bulgaria - Power Generation
This is a best prospect industry sector for this country. Includes a market overview and trade data.
---
Overview
Bulgaria's power sector is diverse and well developed, with universal access to the grid and numerous cross-border connections in neighboring countries. Environmentally friendly, efficient and secure energy is critical to Bulgaria's productivity, competitiveness and growth.
Bulgaria is almost totally dependent on imported fuels from Russia. While Bulgaria has an energy surplus and is a net exporter of electricity, anticipated future domestic consumption will grow slowly allowing Bulgaria to develop itself as an energy hub.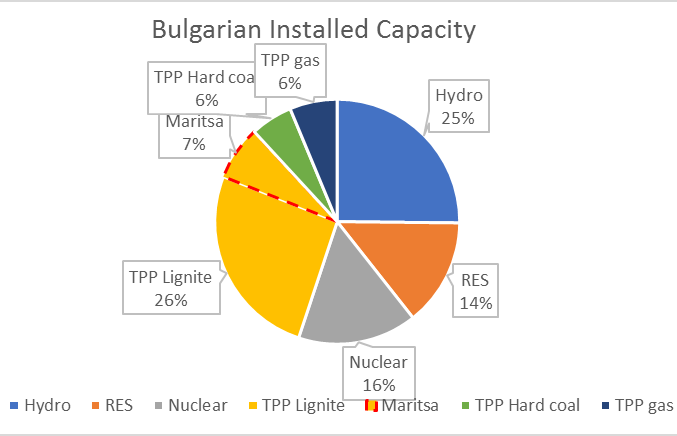 Bulgaria has 12,668 MW of installed capacity enabling the country to meet and exceed domestic demand.
The data shows that the electricity production was 45,322 GWh.
The country's power exports fell 14.0 percent year-on-year to 5,519 GWh.
Source: AES Bulgaria, 2018
Bulgaria's energy market is dominated by state-owned players which include:
the Bulgarian Energy Holding (BEH) –which manages the most important companies in the energy sector,

the Kozloduy nuclear power plant (NPP) with two operating units,

three thermal power plants,

the National Electric Company (NEK),

fifteen hydro power plants,

Electric System Operator (ESO),

Bulgargaz,

Bulgartransgaz,
The highly regulated Bulgarian electricity market is dominated by a few major players that have built a supply monopoly in the country. Despite the legal unbundling of the three distribution system operators from its vertically integrated undertaking, there is no real competition in the distribution market that could enable consumers to choose their supplier as there is only one licensed supplier in each geographical region.
A recent study on the energy sector governance in Bulgaria
highlights the state capture in the energy sector, the high dependency of the country on the imports of Russian gas and technology, the frequent changes in the legislative and regulatory environment and energy poverty as the major challenges in the energy restructuring process.
Bulgaria's first nuclear power plant was launched in Kozloduy (KNPP) in 1974. Over the years, six units were completed making KNPP one of the largest in the region with the installed capacity of 2000 MW. Today, the KNPP constitutes roughly 36 percent of Bulgaria's electricity.  In the 1980s, a new nuclear plant at Belene was approved for construction.  Meanwhile, two of KNPP's units were closed in the early 2000 as a pre-requisite for EU accession; two other KNPP units were closed as part of the 2007 agreement of Bulgaria's accession into the EU.  Over the years there have been countless discussions by the Government and energy companies about a new KNPP unit (Unit 7), as well as debates of completing the controversial, and incomplete, Belene project with the two delivered Russian reactor vessels, two pressure compensators, and 24 hydraulic accumulators. 
Thermal power plants were encouraged in Bulgaria in the early 2000s as Kozloduy NPP units were being closed as part of Bulgaria's accession into the EU. Today there is a strong thermal power plant complex (TPPs) known as the Maritza Iztok Mining complex which consists of three lignite-fired thermal power plants (TPPs) known as: Martiza East 1 (ME-1), a 686 MW U.S. built, owned and operated by AES Corporation; Maritza East 2 (ME-2), a 1,610 MW state-owned plant; and, Martiza East (ME-3), a 908 MW plant owned by the U.S. company, Contour Global.  Other TPPs exist throughout the country.
Bulgaria's energy generation includes nuclear energy, solid fuels, such as lignite, as well as small quantities of gas. The role of renewable energy sources (wind, solar, biomass, and hydro) has increased dramatically in recent years; renewables make up nearly 14 percent of Bulgaria's electricity production.
Energy prices on the regulated market are fixed, by reference, or formula- based, indicating low levels of competition in the energy sector. The country's regulatory regime is unpredictable and American companies have faced problems with enforcing existing contracts.
The electricity market in Bulgaria is undergoing certain major changes, including the introduction of new rules for renewable energy producers, the abolition of the electricity export tariff, and market coupling projects, which will also affect the Independent Bulgarian Energy Exchange (IBEX).
IBEX has been in operation since early 2016. Bulgaria is among the last countries in Europe that introduced its energy exchange. The purpose was to regulate free trade, to ensure electricity prices are set on a free market basis, and to bring transparency to the trading of energy.
The main issues that the free electricity market in Bulgaria faces are low liquidity, price volatility, and lack of integration with neighboring markets. The legal framework governing IBEX operations is subject to constant improvements and revisions. Some of the most important regulations implemented in 2018 were the abolition of the "single buyer" role (the Bulgarian National Electricity Company), the inclusion of producers of 4 MW and over on the free market, the switch from preferential prices for electricity to premiums, and the purchase of the electricity distribution companies' technological losses from the market. Centralized trading via IBEX was also introduced.
In the spring of 2019, the Bulgarian Parliament adopted at first reading the amendments to the Energy Act, which are entered into force on 1 July 2019.
These amendments are requiring all producers with a capacity from 1 MW to 4 MW to sell their electricity on the free market.
There are 372 plants ranging between 1 MW and 4 MW, half of which are solar, with a total installed capacity of 750 MW. Until now, their electricity has been bought by the National Electricity Company (NEK) and sold on the regulated market.
Under the new law, producers in the range 1-4 MW will switch from preferential prices to a different feed-in tariff structure. They will sell the produced energy at market prices on the IBEX and be compensated for the difference between the market price and the preferential prices granted in 2010, 2011 and 2012 (premium compensation). The premium compensation will be paid out by the special State Energy Security Fund. The changes provide for the granting of a premium on a competitive basis.
It is expected that the IBEX will increase its liquidity, which will inevitably solve one of the main current issues highlighted by the business – insufficient electricity and high prices.
Another expected change is the removal of the electricity export tariff. Bulgaria is the only country in Europe that still charges fees on its export electricity. The fee is approximately EUR 5.00 excluding VAT per MWh transferred. It is charged as transmission and access to the grid, but essentially it is a tax on electricity paid by the exporter and not by the final customer.  In a December 2018 ruling, the Court of Justice of the European Union ruled that Member States may not impose taxes on the export of electricity produced on their territory. The abolition of the electricity export tariff is expected to align the electricity prices with those in the region. This should benefit producers as they will receive the market value of their product.
The administrative requirements for renewable energy sources (RES) below 30 kW have been eased as well. Instead of declaring the electricity produced every month, now the small RES will declare the relevant circumstances and make payments to the Energy Security Fund and the Agency for Sustainable Energy Development once a year.
Market unification with countries from Southeast Europe is expected to stabilize prices on the IBEX. To this end, the IBEX has been in dialogue with all neighboring markets – Romania, Serbia, Croatia, Macedonia, Greece and Turkey.
Sub-Sector Best Prospects
Gas
Bulgaria's domestic market for natural gas is only 3 billion cubic meters (bcm) per year.  Currently more than 95 percent of the Balkan country's gas needs are met by supplies from Gazprom, delivered through a pipeline crossing Ukraine, Moldova and Romania.
Potential gas project opportunities (for suppliers, principal contractors, etc.) include:
LNG technologies and liquefaction know-how provides opportunities for further diversification of natural gas supplies in Bulgaria, 

Significant booking capacity exists for expanding the Bulgarian gas transition system to Turkey and Serbia;

Depleted fields are being considered for the construction of underground gas storage (UGS) in the Black Sea;

Expansion of the existing Underground Gas Storage facility located at Chiren. The project should be completed by 2024 and USD 330 M will be needed;

Onshore gas exploration opportunities in Western and Northern Bulgaria;

Bulgaria's state energy holding company (BEH) and Greek natural gas company Gastrade are participating in an off-shore liquefied natural gas (LNG) terminal in Alexandroupolis (northern Greece). The expected cost is USD 413 million:

Setting up Bulgaria's gas exchange market to facilitate the creation of a Balkan gas hub and a suitable market environment, by establishing a new subsidiary company;

The EU supports the Interconnector Greece-Bulgaria (IGB) with an initial annual capacity of 3 Billion cubic meters per year;

The gas interconnector with Romania is completed and the current Government committed to advance the gas interconnectors with Greece and Serbia. There is a plan for increased capacity for electricity interconnectivity, primarily with Greece.
Smart Grids
Bulgaria's energy strategy foresees the replacement of ordinary power transmission networks with smart grids by seeking EU funds for the replacement of conventional electricity meters with smart ones.
The issue of how to deal with overcapacity in the electricity market is critical for the integration of renewables into the electricity grid in Bulgaria. Priority of the new Government should be A) increasing the transmission capacity and B) introducing of a smart grid development as solutions handling the overcapacity in the power market.
Nuclear Energy
Bulgaria has a long-standing positive experience of nuclear energy, recognizing the benefits it brings to people and the environment.
Nuclear energy supplies around 35 percent of Bulgaria's electricity, from two VVER 1000 units operating at Kozloduy.
Government officials from Bulgaria, Hungary, Montenegro, Serbia, Romania, Bosnia and Herzegovina gathered on June 4, 2019 in Belgrade to discuss energy regional cooperation, while they were adamant that every country has the right to determine its own energy mix.

A

t the Summit on Energy Security in the Region in Belgrade, the ministers emphasized that fossil fuels would continue to play a major role in this energy mix, at the same time announcing new nuclear power capacities. Bulgaria's Energy Minister highlighted that a regional transmission network for electricity should be developed and noted that Bulgaria is currently implementing five projects in this sector.
During the summit the Bulgarian Minister of Energy pointed out that the effect of the energy transition in the region would be a deficit in electricity production, therefore Bulgaria intends to implement certain projects, including the construction of a new nuclear power plant.
Bulgaria is among the top 25 overall ranking for U.S. Civil nuclear exports.
https://www.trade.gov/topmarkets/pdf/Civil_Nuclear_Executive_Summary.pdf
Project opportunities exist in the following areas:
Equipment of the Turbine Hall of the new nuclear capacity, including switchgears, transformers and other power evacuation,

Maintenance and upgrade of steam turbines at Kozloduy NPP

(see

www.kznpp.org

),

Activities related to the decommissioning of four NPP reactors;

Official tender for a strategic investor for the new nuclear plant was announced in March 2019.

According to the 

notice

, the government will not provide any state or corporate funding guarantees, nor does it plan to buy electricity from the Belene plant under long-term contracts at preferential rates,

Diversification of Kozloduy NPP's fuel supply,

Removing and packaging of historical nuclear waste,

Nuclear safety and radiation protection,

Technical support for the regulatory body, and

Working with Bulgaria's universities on training and educating nuclear engineers
Energy Efficiency
Bulgaria's energy intensity remains the highest in the EU, four times the EU average. High energy intensities indicate a high price or cost of converting energy into GDP.  Energy saving opportunities exist across the whole economy and energy chain but challenges to the efficient transformation and use of energy have been persistent in the transport, residential, and industrial sectors. Bulgaria is currently ranked as number 42 on the Energy Architecture Performance Index Report 2017 with a benchmark of 127 countries, which indicates that Bulgaria is improving its energy efficiency compared to previous years. In 2016, Bulgaria was ranked 44 in the identical report.
Currently Bulgaria is preparing to launch its Renewable Energy, Energy Efficiency and Energy Security Program, with an estimated EUR 33 million budget to finance street lighting, geothermal and hydropower utilization, energy efficiency in buildings, and other projects.
For the first time in the current programming period, beneficiaries may also be businesses seeking to improve the efficiency of their production, said the ministry, which manages the program. The program is divided into four areas – developing small hydropower plants (HPPS) in water supply systems, new geothermal energy installations, improved energy efficiency in buildings, industry and municipalities, and competence building in the program relevant areas, according to a document available on the website of the Norwegian Water Resources and Energy Directorate.
About 444,000 households in Bulgaria are highly vulnerable to increases in electricity prices, while another 149,000 households are income-poor and could quickly become energy-vulnerable should energy prices increase. The experts estimate that these are households that are both income-poor and energy-vulnerable, in the bottom 25 percent of income distribution and spending more than 10 percent of their budgets on energy. The existing social assistance programs are inadequate to cover households at risk.
Upcoming Changes in the Regulatory Area
In May 2019 the Bulgarian parliament approved amendments to the Bulgarian Energy Act, which include opening the free market to small power producers, removing power export charges and mandating smart meters for industry, that is bringing further liberalization to the nation's energy market.
These amendments will go into effect on October 1 and the electricity producers with installed capacity between 1 MW and 4 MW will enter the free market. Long-term power purchase agreements (PPA) for energy producers between 1 MW and 4 MW will be terminated and their electricity will no longer be purchased under Feed-in Tariff prices. Instead, these producers will sign Feed-in Premium Agreements (FPA) with the Energy Security System Fund (ESSF) like larger power producers with capacities of 4MW and above.
All producers of 1 MW to 4 MW must sign FPAs with the ESSF no later than 31 August 2019. FPAs will enter into force no later than 1 October 2019, the date that the new rules officially go into effect. The approved amendments also remove the current export charge.
Web Resources
https://ec.europa.eu/energy/en/topics/infrastructure/projects-common-interest
- Energy Infrastructure Projects of Common Interest
www.bulgartransgaz.bg
-
Bulgartransgaz                 
www.nek.bg
-
National Electric Company          
www.kznpp.org
-
Kozloduy NPP                                   
https://www.me.government.bg/en
-
Ministry of Energy                            
www.dker.bg
-
Energy and Water Regulatory Commission          
www.bgeef.com
- Energy Efficiency and Renewable Sources Fund
http://bgwea.org
-
Bulgarian Wind Energy Association
https://www.world-nuclear.org/press/press-statements/bulgaria-should-accelerate-new-nuclear-build.aspx
http://www.lexology.com/library/detail.aspx?g=62f9e1a1-5e3b-4160-97db-4ca36c1dbd00
https://ec.europa.eu/energy/sites/ener/files/documents/2014_neeap_en_bulgaria.pdf
  - National Energy Efficiency Action Plan
U.S. Commercial Service Sofia Contact Information
Name:              Ms. Emily Taneva
Position:           Commercial Specialist 
Email:
Emily.Taneva@trade.gov
Phone:              +359-2-939-5770
Prepared by our U.S. Embassies abroad. With its network of 108 offices across the United States and in more than 75 countries, the U.S. Commercial Service of the U.S. Department of Commerce utilizes its global presence and international marketing expertise to help U.S. companies sell their products and services worldwide. Locate the U.S. Commercial Service trade specialist in the U.S. nearest you by visiting http://export.gov/usoffices.