Mozambique - Market Challenges
Learn about barriers to market entry and local requirements, i.e., things to be aware of when entering the market for this country.
---
Despite Mozambique's investment potential, the business climate poses distinct challenges.  The Central Bank, had created a stable, albeit weak, macroeconomic environment, and there appears to be high-level political commitment to attracting large scale investments.  However, this masks a bureaucracy that remains largely unresponsive to the needs of the private sector, especially small-to-medium-sized enterprises.  Most companies cite the slow pace of conducting business as one of the main challenges in Mozambique, mainly due to the lack of human capacity in areas necessary for business.  In addition, the top-down, hierarchical decision-making process can hinder market efficiency.  The Government's lack of transparency in foreign commercial loan acquisitions has caused rating agencies to downgrade Mozambique and some donors have halted direct budget assistance to the government.Even though the labor force is growing, the labor market is rigid, and highly trained personnel are scarce.  In 2009, the Ministry of Labor began enforcing quotas to limit the hiring of foreign employees, though larger investors and those operating in free trade zones have some flexibility.

The 1997 Land Law grants a land use right roughly comparable to a lease. Though land can be leased for renewable 50-year periods, it cannot be used as collateral for financing.  The bureaucratic process of acquiring rights to use land, as well as construction permits, can be lengthy and complicated.  Companies are advised to approach the leasing of land with great caution and to consult with local attorneys to ensure sellers are legitimate and transactions are legal.

Though large improvements are being made, Mozambique has poor basic infrastructure, from dirt roads to an insufficient and unreliable power supply to underdeveloped communications networks.  Road infrastructure is generally poor, except for large stretches of the main north-south highway, and the highway connecting Maputo with the South African border.  Cellular telephone coverage is primarily concentrated in urban areas and is sometimes unavailable in rural areas.
Commercial banks charge high interest rates, regardless of the Central Bank's standing lending facility, making it difficult for SMEs to find affordable financing.  Payments for imported goods can be difficult, as foreign currency payments outside the country have to be approved by the Central Bank. 

A lack of transparency in government procurement and slowness in government decision making can delay projects and even make them unsustainable.  Mozambican law requires public tenders for any government project valued at more than USD10 million, but tenders are often not issued and some that have been issued have not been competed fairly.
Due to the frequent use of legitimate businesses to conceal illicit activities, the practice of trade-based money laundering, and systemic corruption across many government sectors, the U.S. law enforcement community urges businesses and investors to practice caution and conduct proper due diligence when engaging in business ventures in Mozambique.  By doing so, the best interests of both American and Mozambican trade partners can be promoted.

Money Laundering and Terrorism Financing
Mozambiqe has World's highest money laundering and terrorist financing risk. Of 125 countries assessed, Mozambique has the highest risk of money laundering and terrorism financing, according to a report issued by the Basel Institute of Governance on 19th August 2019.

Poor border controls and weak government institutions expose the country to cross-border crimes related to drugs and human trafficking. Mozambique is also vulnerable to other predicate offences including corruption, car theft and smuggling, robbery, cash smuggling, ilicit trade in precious metals and stones, customs fraud and goods smuggling.
Mozambique has high risk associated with corruption, which is pervasive problem in the country. The country also fares poorly on Financial Transparency and Standards. Mozambique is listed among the US INCSR list of major money laundering countries.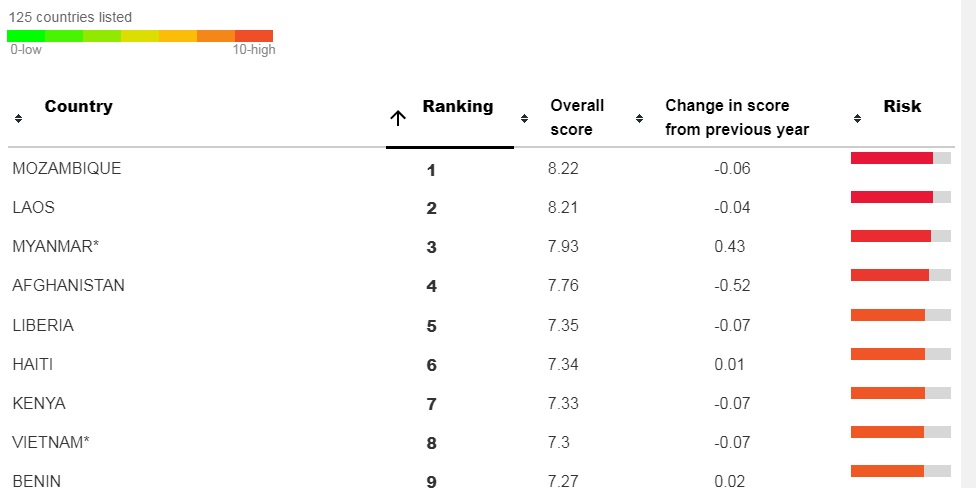 The score is based on 15 indicators in five areas: Quality of Anti-Money Laundering Framework, Bribery and Corruption, Financial Transparency and Standards, Public Transparency and Accountability, and Legal and Political Risks. With Mozambique as number 1(highest risk), the United States is ranked 72.

Source:  https://www.baselgovernance.org/basel-aml-index

Mozambique is increasingly becoming a centre of attention of the United Nations Office on Drugs and Crime's (UNODC) efforts to combat the growing threat of illicit trade on the East African coast. From heroin from West Asia arriving and transiting through the region, to ivory and timber leaving its ports to reach Asian markets, the region is a growing hub with dire consequences to fragile economies.

Following the powerful tropical cyclones, which struck Mozambique in quick succession this past March and April respectively, terrorist and organized crime groups are taking advantage of the precarious situation for their illicit trade or recruit locals who are desperate to compensate for their losses.

In the northern part of the country, especially in the Cabo Delgado province, at the border with Tanzania, the situation has been deteriorating at a rapid pace. So-called terrorist groups have since January 2019 increased their intensity of attacks, which left more than a dozen dead in June alone.

In response to these challenges that threaten peace and stability in the country and the wider regional security of the Southern Africa Development Community (SADC) region, UNODC Executive Director recently identified Mozambique as a priority country to benefit from the rapid deployment of UNODC surge capacity, including assignment of a new member to coordinate a comprehensive offer of assistance bringing together expertise across UNODC's mandate areas.

UNODC is providing answers to some of the most pressing challenges on border control at sea and by air. In April 2019, UNODC launched its first training on Container Control at sea ports and air cargo. Mozambique is also in the process of establishing a Joint Airport Interdiction Task Force (JAITF) at Maputo international airport, through UNODC's AIRCOP Project, which will increase its ability to detect and intercept drugs, other illicit goods and high-risk passengers, including foreign terrorist fighters.

Source: https://www.unodc.org/unodc/en/frontpage/2019/July/unodc-assists-mozambique-to-address-growing-threat-of-illicit-trafficking-and-terrorism.html
Prepared by our U.S. Embassies abroad. With its network of 108 offices across the United States and in more than 75 countries, the U.S. Commercial Service of the U.S. Department of Commerce utilizes its global presence and international marketing expertise to help U.S. companies sell their products and services worldwide. Locate the U.S. Commercial Service trade specialist in the U.S. nearest you by visiting http://export.gov/usoffices.