Korea - Travel and Tourism
This is a best prospect industry sector for this country. Includes a market overview and trade data.
---
ITA CODE: SV TRV
South Korea

2014


 

2015


 

2016

2017

2018

Global Outbound Travel

16,689,000

19,310,430

22,383,190

26,496,447

28,695,983

Outbound Travel to the U.S.

 1,460,000

 1,775,000

  1,983,000

 2,335,000

2,492,000 (estimate)

Global Inbound Travel

14,201,516

13,231,651

17,241,823

13,335,758

15,346,879
Source: Korea Ministry of Culture, Sports and Tourism (MCST), Tourism Organization (KTO), U.S. Department of Commerce National Travel and Tourism Office (USDOC, NTTO).
In 2018, over 28.7 million Koreans,
more than
half of the population, traveled abroad (up 8% from the previous year).  Of the Koreans traveling overseas, 2,329,000 traveled to the U.S. in 2017 (up 18% from previous year).  By 2019, it is estimated that 2.61 million Koreans will travel to the U.S. International travel is a rapidly growing activity for Koreans and offers opportunities for U.S. tourism exports.  On average, a Korean visitor to the U.S. spends approximately $4,900 per trip.  This number translates to over $10.1 billion annually of tourism revenue from Korean outbound travelers to the U.S.  Korea is currently the sixth largest source of inbound travel to the U.S., behind Canada, Mexico, United Kingdom, Japan, and China.
The U.S. remains one of top five destinations for Korean outbound travelers.  Koreans overwhelmingly choose the U.S. as their top non-Asian long-haul destination, primarily because of the diversity of tourism opportunities (not generally available in Asia), including U.S.-style shopping, fine dining, theme parks, cultural attractions in major U.S. cities, relatively inexpensive golf experiences, and U.S. National Parks.
Rising disposable incomes, gradual increases in vacation time, heightened globalization, and greater awareness of developments outside the Korean Peninsula are causing more Koreans to travel overseas.  Korea's per Korea's per capita GDP (PPP) rose to $39,548 in 2018 (World Bank), placing it securely in the ranks of middle-income countries.  Korean consumer confidence has also increased gradually, including a rise in discretionary spending on such activities as overseas travel for business and leisure.
Positive economic indicators, Korea's addition to the U.S. Visa Waiver Program (late 2008), and the U.S.-Korea Free Trade Agreement (KORUS FTA), which entered into force in March 2012, are helping spur even more leisure and business-related travel to the U.S.  Currently, 9% of Korean travel to the U.S. is for business purposes.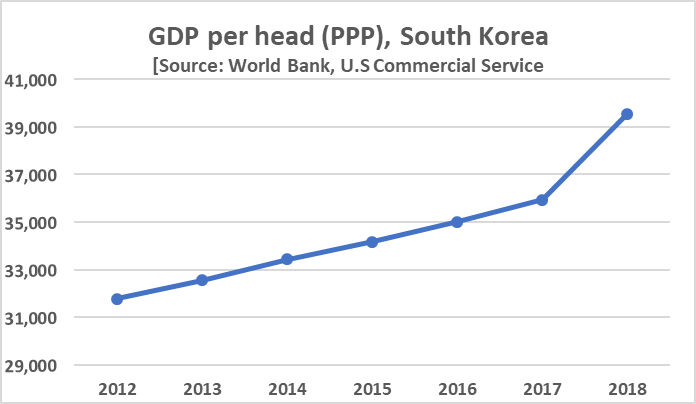 Korean mass media is influenced by U.S. movies, advertising, popular culture, and the Internet, which continue to stimulate interest in U.S. travel destinations.  The recent boom of social commerce (social networks and websites that give product/service sellers access to a large pool of international travel consumers) is also contributing to this growing trend, as they offer all types of travel products.  Moreover, South Koreans' positive perception of overseas travel and the abundance of information-sharing through mass media and social media are expected to continue to boost the growth of outbound tourism in coming years.  
Free and independent travelers

Group package tours

Family vacation packages

Cultural tours and scenic/nature tour packages, especially designed for Korean travelers

Luxury packages catering to Korea's single, professional women, traveling for leisure

National parks

Outdoor activities

Culinary tours

Educational travel

MICE


 
The U.S. is the leading non-Asian destination for Koreans as it offers a variety of activities, climates, and cultural experiences.  However, there is room for growth.  U.S.-bound Koreans account for only 9.0 percent of Korea's outbound market.  Los Angeles, San Francisco, Las Vegas and Seattle, followed by the New York-Washington, DC corridor, are the most popular destinations.  Koreans use group package tours or travel individually to visit friends and relatives.  Group tours should focus on price-competitive products that entice travel agencies in Korea to sell these products.  Korean travelers are generally interested in visiting museums, national parks, amusement parks, finding bargains at fashion outlets, purchasing OTC pharmaceuticals/vitamins and U.S. cosmetics, playing golf, and visiting restaurants and wineries.
To enter this market, travel and tourism entities should provide materials and guide experiences in the Korean language, continue knocking on doors (i.e., visit Korean travel wholesalers), and cultivate long-term relationships with the travel trade in Korea.  There are approximately 11,000 tour agents in Korea.  Promotional information and product training programs on the U.S. are urgently needed for developing this market.  Contact CS Korea, per below, for more details.
Trade Events
January 5-6, 2019
Weddex Korea –

www.wedex.com
June 7-9, 2019
Hana Tour International Trade Show 2019 – https://hits.hanatour.com
June 6-9, 2019
Korea World Travel Fair (KOTFA) –

www.kotfa.co.kr
September 5-8, 2019
Mode Tour International Trade Show –

www.modetour.co.kr
Key Contacts
Korea Tourism Organization:

www.visitkorea.or.kr
Ministry of Culture, Sports and Tourism:

www.mcst.go.kr/english
Brand USA:

www.gousa.or.kr
Visit USA:

www.visitusakorea.com
Local Contact
Ms. Jessica Son                                                                                                        
Senior Commercial Specialist                                                                                     
U.S. Commercial Service, Korea                                                                                 
U.S. Embassy Seoul                                                                                                   
188 Sejong-daero, Jongno-gu                                                                                     
Seoul 03141, Korea                                                                                                  
82-2-397-4587
E-mail:

Jessica.son@trade.gov

 
http://www.export.gov/southkorea
Prepared by our U.S. Embassies abroad. With its network of 108 offices across the United States and in more than 75 countries, the U.S. Commercial Service of the U.S. Department of Commerce utilizes its global presence and international marketing expertise to help U.S. companies sell their products and services worldwide. Locate the U.S. Commercial Service trade specialist in the U.S. nearest you by visiting http://export.gov/usoffices.